Internett Telefoner:
... Oppdatert Programvare:
---
MediaRing Talk 7.2.019 (Size: 4,3 MB)

MediaRing Talk enables you to make free long-distance calls from your PC to any other PC running the same program. To make a call, all you need is your friend's phone number. If the friend you're trying to reach is not online you can even leave a voi
Nice extras include a full-featured phone book, caller ID and call log. Most importantly, it has excellent sound quality--even with a slow modem. Besides a gorgeous and easy-to-use interface, and great features, the user can enjoy many more value-added services including VoizMail, TalkZone and myTalky.
Download
---
Mobile Instant Messenger 2.0 (Size: 1,3 MB)

Send FREE messages to Mobile Phones and Pagers anywhere in the world from your PC. This requires that the Mobile Phone have text messaging available.
---
Rave 2 2.05 (Size: 420 KB)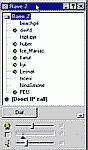 Rave 2 allows you to talk(just like a telephone conversation) to your ICQ Contacts, or to any other person at a fixed IP or domain name address, worldwide.
It offers secure encrypted transmissions to guarantee the privacy of your conversations.
Download
---